The 32nd International Eucharistic Congress which was held in Buenos Aires, Argentina in October of 1934. Cardinal Eugenio Pacelli the future Pope Pius XII was there and served as Papal Legate to the Congress. More than one million people gathered for the Holy Mass in Palermo Park and to hear via loudspeaker a greeting and blessing from the Pope via Vatican Radio.
What is particularly noteworthy in these photographs of the crowds gathered is their organization. One is also struck by the photos and videos of the distribution of holy communion to such large crowds of people. Viewing the photos and the film of the Holy Mass, I could not help but draw comparisons between this large gathering of Catholics united in faith and practice in 1934 with the liturgical shenanigans at World Youth Day just a short time ago. What (if anything) do the two celebrations of Holy Mass in 1934 and 2013 share in common? What differences does one see in the reverence, piety, devotion and faith respectively of those assisting at the Holy Mass in 1934 versus the WYD Mass in 2013? I'll let you dear reader draw your own conclusions.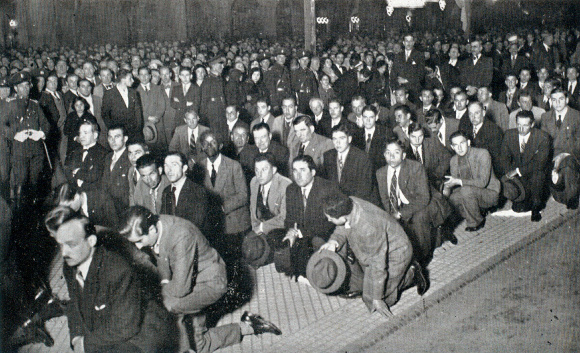 Now for the photographs of the World Youth Day liturgy of 2013:
THERE ARE MORE PHOTOS HERE BUT CAUTION! THEY ARE NOT FOR THE FAINT OF HEART. THEY ARE IMMODEST TO SAY THE LEAST.